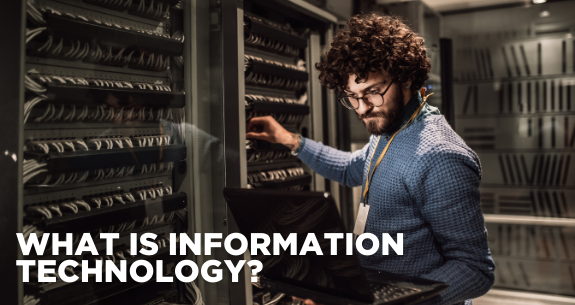 Information technology (IT) is the use of computer systems or devices to access information. Information technology is responsible for such a large portion of our workforce, business operations and personal access to information that it comprises much of our daily activities. Whether you are storing, retrieving, accessing or manipulating information, IT greatly impacts our everyday lives.
everyone uses information technology, from large companies to one-person businesses to local operations. global companies use it to manage data and innovate their processes. Even flea market vendors use smartphone credit card readers to collect payments and street performers give a Venmo name to collect donations. If you use a spreadsheet to catalog the Christmas gifts you bought, you're using information technology.
what are the types of information technology?
Information technology is a broad term that implies the use of technology to communicate, transfer data and process information.
Different trends within information technology include, among others:
analysis
automation
artificial intelligence
cloud computing
communications
cybersecurity
database/data management
infrastructure
internet of things
machine learning
maintenance and repair
networks
robotics
software/application development
scada

This list is not exhaustive and new applications for the technology are constantly emerging.

what is the role of information technology?

Information technology plays a prominent role in business and provides a foundation for much of our workforce today. from communications to data management to operational efficiency, it supports many business functions and helps drive productivity.

why do we need information technology?

Information technology drives much of what we do in our personal and professional lives. it is the basis of our communication, technological progress, innovation, sustainability and recreation. we use information technology on a personal level to connect and communicate with others, play games, share media, shop and socialize.

From a professional perspective, information technology is largely responsible for much of our business operations and spans nearly every industry. From healthcare to foodservice, from manufacturing to sales and more, we rely on it to help us connect with others, store and manage information, and create more efficient processes.

professional opportunities in you

Read more: 10 Things to Know About HIV Suppression | NIH: National Institute of Allergy and Infectious Diseases

according to cyberstates 2020, there were 12.1 million technology-based jobs in 2020, which continues to grow year over year. Careers at it span many different areas, from computer hardware and software development to networking, computer repair, technical support, cybersecurity, cloud computing, artificial intelligence, data science, and much more. What originally started as a siled department, information technology is now considered a critical business function that touches nearly every aspect of an organization.

what exactly is a job of yours?

An IT job is any position that involves the implementation, support, maintenance, repair or protection of data or computer systems. Those involved in developing, implementing, or supporting the systems or applications that others use are the most common examples of IT jobs. If you like to solve problems and be an active learner, a job in technology might be right for you.

examples of your work

Ti jobs run the gamut. here is a brief summary of some job possibilities from you. Please note that these positions may also be industry-specific, so you could fill one of the following roles in an industry of your choice.

hardware-based IT jobs may include any of the following:

help desk technician
computer technician
network engineer/architect
hardware manufacturer
cloud engineer
cloud architect

Software-based jobs may involve the development of applications or programs and may include the following:

software developer
software engineer
programmer
mobile app developer
web developer
product owner/support

IT jobs that involve data protection or incident response fall under cybersecurity and may include the following:

cybersecurity specialist
cybersecurity analyst
cybersecurity architect
forensic analyst
incident responder
malware analyst
pen tester/ethical hacker
threat hunter

Information technology jobs that involve data collection, storage, or analysis are included in data jobs, which may include:

scientist/data analyst
data engineer
database engineer
data privacy officer
business intelligence analyst

As in any industry, there are several IT jobs that are leadership positions. These may include jobs such as:

IT manager/team leader
director of the same
chief information security officer (cisco) chief information officer (cio)
chief technology officer (cto)
data director (cdo)

what are the best paying jobs?

Jobs generally pay more based on complexity or level of leadership. For example, if an IT position requires a high level of technical expertise, a computer science degree, or is an executive position, you're looking for a higher salary.

Read more: Semen color: Why it varies and what it means

according to salary.com, these are some of the highest paid IT jobs.

computer and information systems managers earn a median salary of $146,360
cloud engineers earn a median salary of $136,479
cyber security engineers earn a median salary of $134,340
Computer and information research scientists earn a median salary of $122,840.
Computer hardware engineers earn a median salary of $117,220.
computer network architects earn a median salary of $112,690
Software developers and software QA analysts and testers earn a median salary of $107,510.

See how much you could earn at different ti jobs with our ti salary calculator.

what is the easiest you field to enter?

Fortunately, IT professionals are in fairly high demand. some fields are easier to enter than others. other fields can be very competitive or require highly specialized skills.

These are some of the easiest fields to get into in information technology, most of which can be achieved without a bachelor's degree and will have openings available.

technical support
computer repairman/technician
desk support
network support

IT certifications show employers that you have the skills needed for tech jobs, even if you don't have a degree. Comptia A+, an entry-level IT certification, is the industry standard for establishing a career in IT and covers the fundamental skills needed to land your first IT job and build a successful IT career.

Learn more about entering without a title.

what are good entry level jobs for you?

If you're looking for an entry-level IT job, you might be in luck if you start with the following:

computer repair specialist
help desk
web developer
technical support

is information technology a good career?

The short answer is yes, absolutely! Information technology offers careers at different levels of complexity and allows you to work in almost any vertical industry you want. Because information technology is the foundation of much of our business, the options are limitless. The salaries also allow for a good standard of living and there is little chance of your job becoming obsolete.

information technology is not just a good job. there are so many opportunities for advancement and continuing education that allow you to take control of your career path. For example, you could start as a level 1 help desk technician and progress to levels 2 and 3 as you gain experience and improve your skills. or you can go from help desk to network administration, cybersecurity, or any other IT specialty. the world is your oyster!

getting started in information technology

Read more: What is Erythritol? – Food Insight

If you want to get started in information technology, certifications provide a foundation of knowledge, test specific skill sets, and allow you to demonstrate your technical skills. Depending on the path you're taking or the major you're interested in, you may choose to pursue a two-year bachelor's or master's degree to be more competitive, but it's not always necessary. the beauty of a career in it is that you can start without a formal education and advance or choose to expand your skills as you see fit.

it industry certifications

There are a variety of IT certifications that can help you break into an IT field. Comptia provides vendor-independent certifications, which means the skills covered by our certifications prepare you to work on any vendor's products.

if you're new to it, comptia it fundamentals+ (itf+) introduces you to your basic knowledge and skills.
comptia a+, comptia network+ and comptia security+ cover the basic skills used by IT professionals. Earning them early in your career will help you build a strong foundation of technology skills and knowledge.
comtia cybersecurity analyst (cysa+), comptia pentest+ and comptia advanced security practitioner (casp+) cover intermediate and advanced cybersecurity skills.
comptia server+, comptia linux+ and comptia cloud+ cover the skills needed for the infrastructure specialization.
comptia project+, comptia technical trainer (ctt+), and comptia cloud essentials cover additional professional skills that can take your IT career to the next level.

Adding a vendor-specific certification, such as those from Amazon Web Services (AWS), Cisco, and Microsoft, allows you to position yourself on those platforms and teams.

Comptia certifications are developed with job roles in mind: the skills covered by our certifications are the ones IT professionals use every day. In fact, IT professionals and managers contribute to the development of Comptia exams to ensure our certifications are relevant to today's IT workforce. See what kinds of IT jobs you could get with Comptia certifications.

Other IT certifications also align with specific IT jobs, such as: Certified Ethical Hacker (CEH), Certified Information Systems Security Professional (CISSP), Certified Cloud Security Professional (CCSP), and Certified Professional in data (cdp).

which certification should I get first?

It's a good idea to get a basic understanding first, and then build on those certifications once you've identified your areas of interest.

The best certifications for you to start with would be:

support it fundamentals+ (itf+)
buy a+
microsoft 365 basics
microsoft technology associate (mta)
certified system security professional

Are you intrigued? Take our quiz to see if it's right for you.

learn more about ti career center.